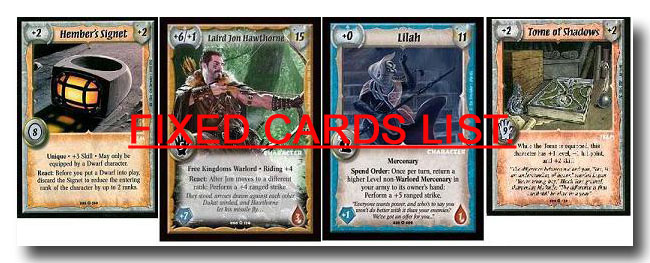 Fixed cards are a type of rarety cards in the Warlord CCG; they owns a rarity symbol that shows at the bottom of the card a small white star in a black circle. So there is a little difference with the usual rares ones that owns a simple black star... The fixed cards can be mainly found in the Starter Deck and/or battle pack for the most recent Edition. Thoses ones doens't appear in the usual boosters pack but as explain above, they are guaranteed to be in a certain starter and/or Battle pack. Usually, the fixed cards are high level actions, items for a Warlord character or even from specific faction. They are also Warlord character that can only be found in there for most of the time if they were not reprinted later in a most recent edition with perhaps a new Picture art. Some of them are now hard to find because a lot of old starter deck are Out of print from a long time.
In two other sections of the site, you have already present all the Warlord Theme decks that were produced from AEG (Note that Phoenix Interractive produces only Adventures Path, those fixed cards specificity are totaly different). So for a big part of them, the fixed cards included in thoses ones ar described for each Starter decks. That's already a good way to know where to find them.
The Links for this two sections are the following ones :
All the Fixed Warlord Character cards has been already created in an another section of the site called '' Warlord Character List '' at this
So they are not included in this section.
You'll find so here, all the Actions and Items fixed cards Edition by Edition linked to the card itself on the shop part of the site.
Warlord Saga of The Storm (1st Ed.) :
Assassin's Strike :
Tooth and Claw :
Black Knives :
Good and Evil :
Nest of Vipers :
Siege :
Call to Arms : Power and Glory :
The Nest of Vipers expansion contains only fixed Warlord characters.
The Call to Arms expansion(s) doesn't own Starter deck so they were not fixed cards.
Dominance :
Betrayal :
Campaign Edition :
Sneak Attack :
Southern Kingdoms :
Death's Bargain :
Counter Attack :
Hero's Gambit :
Dragon's Fury :
Eye of the Storm :
The Eye of Storm expansion contains only fixed Warlord characters (Thoses ones were only available as promo sealed packages inserted in the Boosters Box. Note that the usual Starters decks were not produced for this expansion).
Epic Edition :
Temple of Lore, Plane of Secrets and Light and Shadow.
Thoses expansions contains only fixed Warlord characters available in Battle Pack Format.
Note that : The champions deck cards are are all mainly fixed cards and are not classify in this section. The Stolen Destiny online cards Edition doesn't own Fixed cards.
A Fixed card Missing above (except the Warlord character present in an another section of the site) ? Thanks to advertise me.
.