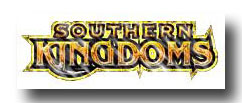 Release date : February 4, 2004. Number of Cards : 158. Date of the cards : 2004. Sold As : Starters (50 cards), Boosters (11 cards), Boosters Box (48 Boosters). AEG product. Southern Kingdoms was the ninth Warlord CCG Expansion (Just after Dominance).
Bugs : Campaign Tournament format.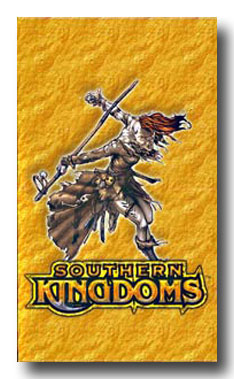 After the problems that the previous expansion, ''Dominance'' has left perhaps with his power cards, it was necessary to begin, to reset the game with a new expansion on excellent bases. Southern Kingdoms has reach the success quickly for all the players, the main theme was definively an excellent one. Southern Kingdoms was, in addition, the first expansion that ows a tournament ''bug'' symbol. The cards from this expansion owns the Campaign format, so you'll find a shield and sword symbol on the right side of all Southern Kingdoms cards.
So welcome to new types of creatures like, mentalist, monk with some new mecanics that can re-arrange the ranks of your opponents and stun the opponent's characters. A lot of famous cards in a new environment as you can see with some highlights cards of this expansion just bellow.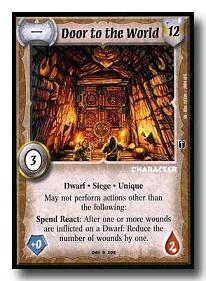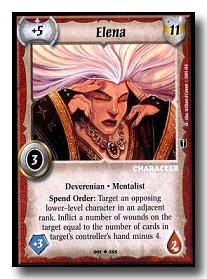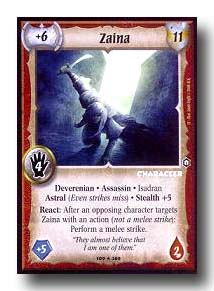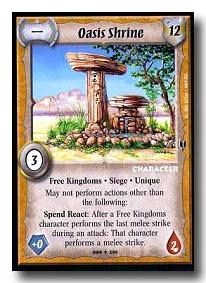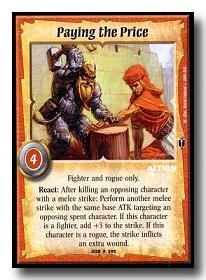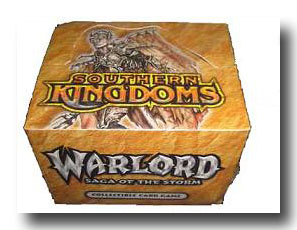 Due to his big success, the Southern Kingdoms expansion an his cards are perhaps the extension were the cards are now hard to find. At least one, Southern Kingdoms, is horribly under-printed. There was of course for Theme Decks available, were some Warlords can only be found by this way. You can find all the Theme decks in our section
Note that : 6 Warlords characters were available as promo full bleed type during the AEG days (only available for XP exchange). Thoses full-bleed Warlords are : Kedric / Meek'iah / Raziel / Dallen Stormlost and Ahdi Akkhar.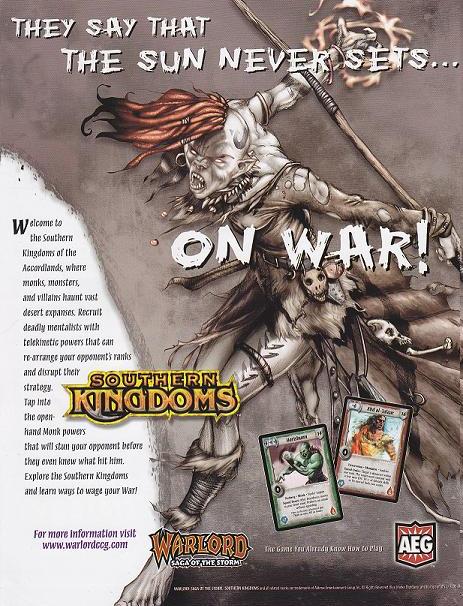 Southern Kingdoms Advertising Release Publicity.