Release date : April 1, 2002. Number of Cards : 310. Date of Cards : 2002. Sold As : Starters (50 cards), Boosters (11 cards), Boosters Box (48 Boosters). AEG product.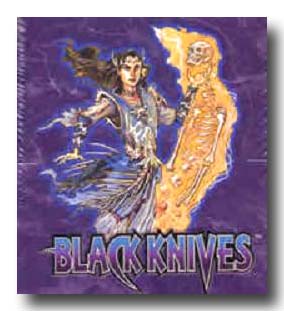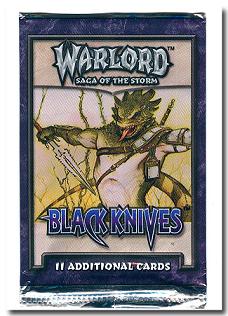 The Black Knives Edition were a type of second edition without to be one. Due to the out of Print previous expansions, AEG has decided, due to the succes of the game, to reprint most of them in a Reprint type Edition like other CCG. The cards reprinted were issued from the first Edition Warlord Saga of the Storm base set, the Good and Evil expansion and finally from the Assassin's Strike expansion. Note that some of the rare cards issued from the Warlord Saga of the Storm were printed as foil ones for the first time.. and the last time for some of them. The First edition of Warlord doesn't own some foils cards as specify in the base sets explanations.
The Black Knives Edition boosters and/ or boosters box are hard to find now, mainly due to the succes ot this one. Normal finally, this edition owns and cover the cards of 3 differents expansions so it was and it is a really good deal to by some Boosters box that contains thoses types of cards originally only available in 3 differents printing.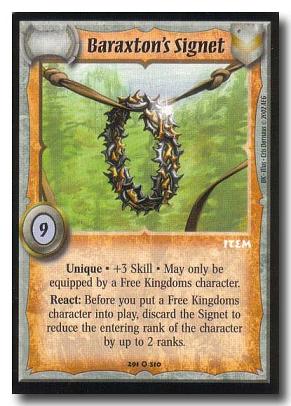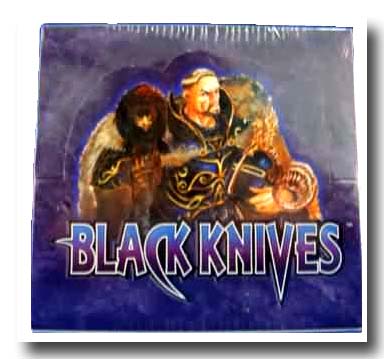 The Black Knives cards were also available like the previously edition in Starter Decks of 50 cards. Note that five cards are only available in thoses starter decks, the Signet series : Signon's Signet, Hember's Signet, Calix's Signet, Baraxton's Signet, Hate's Signet. The five warlords were available in the previously expansion but appears in Black Knives only in thoses starter decks too.
Thoses 10 cards are of course fixed cards even if the usual Star symbol is not present in a Circle.
The pictures from the Themes decks are present in our section
NOTE :
As we have seen above, some cards issue from the Warlord Saga of the Storm first basic edition were never printed as Foil cards, The Black Knives reprint edition has correct this fact. So some cards can only be found as foil version in this edition with a unique Foil pic. Here is a list of them :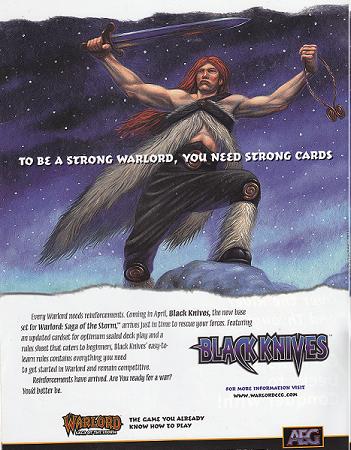 Alesandressa / Assassination / Bag of Holding / Balmtear's Potion / Bar Fight / Bracers of Hember / Chain Lightning / Cleave / Cordeos / Count Damien / Crystalsphere Staff / Cure Lethal Wounds / Darian Windson / Deverenian Hound / Divine Guidance / Extensions / Fett Anjaran / Final Stand / Glyph of Fate / Great Cleave / Hammer of Peronor / Inferno / Jack of All Trades / Johan Halfblood / Kohn Peacehand / Lathos / Loyalty's Reward / Mass Blessing / Maxmilian / Poison Dagger / Poisoned Blade / Power Word Kill / Prince Alaric / Relentless / Rod of Roaring Flames / Rren'the / Sethusk / Signon's Armor / Staff of War / Stinking Cloud / Strongarm / Summon Champion / Summon Monster / Tales at the Inn / Tears of the Storm / Test of Faith / The Better Part of Valor / The King's Lady / Timber Wolf / Too Fast to See / Toren Yscar / Turned to Stone / Uther Killer-of-Bears / Vahdrok the Crippler / Varg / Virtue / Yedraw's Tooth.
Black Knives Advertising Release Publicity.