Release date : August 25, 2003. Number of Cards : 158 + 1 (Rafkin two differents version but twice numbered 066/158) . Date of the cards : 2003. Sold As : Starters (50 cards), Boosters (11 cards), Boosters Box (48 Boosters). AEG product. Betrayal was the eigth Warlord CCG Expansion (Just after Betrayal).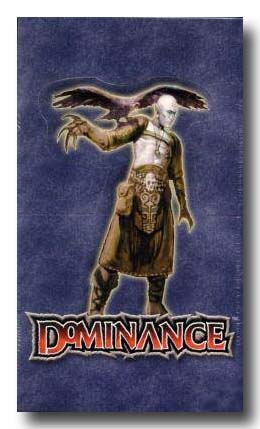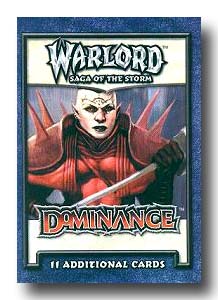 This expansion doesn't not really own a specific theme, a history line, a little bit like Betrayal finally. With Dominance, the game has reach an another point: high level cards and the problems of them with the total envirronment of game since the first Warlord cards. In fact, with each expansion, the game has evolved and the cards with the time becomes to be too powerful and Dominace owns some really powerful cards. So the expansion was a little earthquake for the game. The only solution was to create some types of tournaments at this point (banned and/or restricted cards like some other CCG do) so it was decide for the next expansion Southern Kingdoms with the ''bug'' symbol.
As for excellents examples those three Avatar character type just below own some powerful capacity and the Item Avatar of Albrecht, Epic ... hopefully.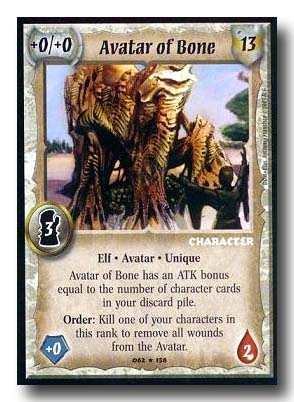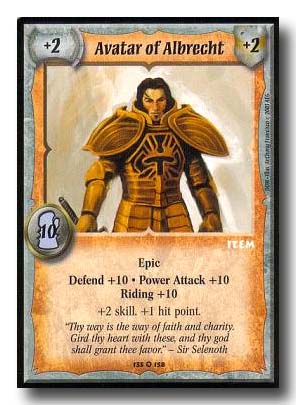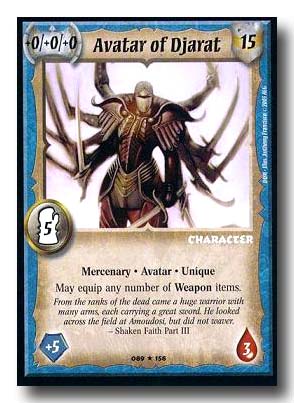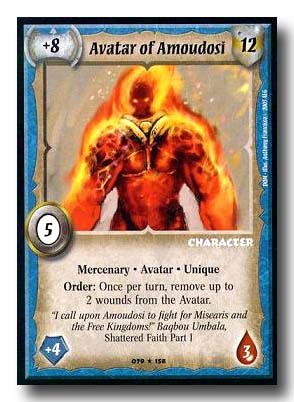 As powerful items, we can find also in Dominance de Soul Gem serie, who's are an equip location type who's provide an ATK and AC bonus plus a special aditional abilitu as you can see in our example on the left for the ''Soul Gem Medera''. There's four differents Soul Gem and they are only available in the Dominance Expansion.
We can find also a second type of equip location in Dominance Expansion, the ''Totems '' items (mainly for the Nothrog Faction) as for example the ''Mammoth '' item. This equip location item provide special abilities that copy those of some Nothrog Warlords.
This powerful expansion owns too some Starters Decks for the four usual factions. Some of those powerful cards, fixed for most of them were only available in thoses ones, and were not reprinted later, even in some Base set expansions due to this environment reset finally. You can find more Theme decks in our section
Note That :

- The uncommon card ''Rafkin'' are a Elf and Free Kindoms, so from the Both Faction. This card exist in two different version with for each one a different color Border.

- "Kratchling" is a trait that appear only in Dominance and was used on two cards ("Brown Kratchling" and "Green Kratchling").