Release date : August 25, 2003. Number of Cards : 158 + 1 (Rafkin two differents version but twice numbered 066/158) . Date of the cards : 2003. Sold As : Starters (50 cards), Boosters (11 cards), Boosters Box (48 Boosters). AEG product. Betrayal was the eigth Warlord CCG Expansion (Just after Betrayal).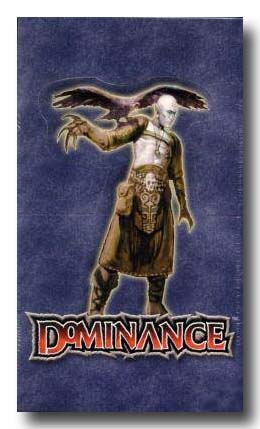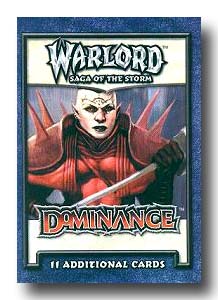 This expansion doesn't not really own a specific theme, a history line, a little bit like Betrayal finally. With Dominance, the game has reach an another point: high level cards and the problems of them with the total envirronment of game since the first Warlord cards. In fact, with each expansion, the game has evolved and the cards with the time becomes to be too powerful and Dominace owns some really powerful cards. So the expansion was a little earthquake for the game. The only solution was to create some types of tournaments at this point (banned and/or restricted cards like some other CCG do) so it was decide for the next expansion Southern Kingdoms with the ''bug'' symbol.
As for excellents examples those three Avatar character type just below own some powerful capacity and the Item Avatar of Albrecht, Epic ... hopefully.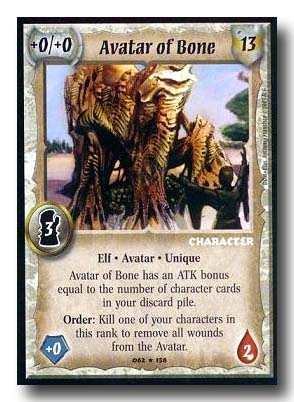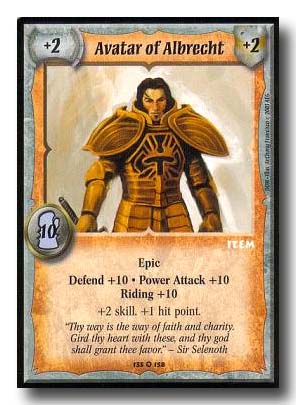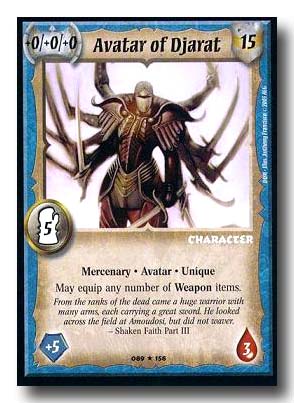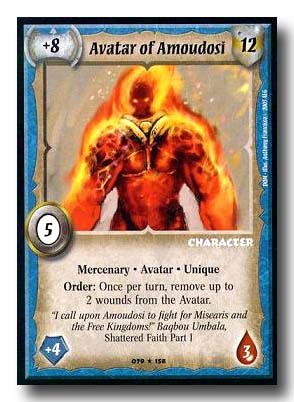 As powerful items, we can find also in Dominance de Soul Gem serie, who's are an equip location type who's provide an ATK and AC bonus plus a special aditional abilitu as you can see in our example on the left for the ''Soul Gem Medera''. There's four differents Soul Gem and they are only available in the Dominance Expansion.
We can find also a second type of equip location in Dominance Expansion, the ''Totems '' items (mainly for the Nothrog Faction) as for example the ''Mammoth '' item. This equip location item provide special abilities that copy those of some Nothrog Warlords.
This powerful expansion owns too some Starters Decks for the four usual factions. Some of those powerful cards, fixed for most of them were only available in thoses ones, and were not reprinted later, even in some Base set expansions due to this environment reset finally. You can find more Theme decks in our section
Note That :

- The uncommon card ''Rafkin'' are a Elf and Free Kindoms, so from the Both Faction. This card exist in two different version with for each one a different color Border.

- "Kratchling" is a trait that appear only in Dominance and was used on two cards ("Brown Kratchling" and "Green Kratchling").

Dominance Card List :
1) A Grave Error 2) Acrobatic Strike 3) Adoramus Te 4) Alert 5) Ambushed Before the Battle 6) Andlewick 7) Aphotican 8) Arrow of Slaying 9) Assassin's Cup 10) Avatar of Albrecht 11) Avatar of Amoudosi 12) Avatar of Bone 13) Avatar of Djarat 14) Avatar of Fineltour 15) Avatar of Kavara 16) Avatar of Kor 17) Avatar of Neus 18) Avatar of Sanaa 19) Avatar of Spirit 20) Avatar of Yscar 21) Banner of Rallying 22) Barrier 23) Bascarite Necklace 24) Bascarite Swarm 25) Bascaron's Children 26) Bascaron's Gaze 27) Bear 28) Belshsar the Scarred 29) Bershar Nin 30) Black Moss 31) Blood Hound 32) Bracers of Weaponry 33) Brown Kratchling 34) Byaal Kadapati 35) Caer's Kiss 36) Cear's Plan 37) Cear's Stone 38) Chainmail of Loyalty 39) Children of Yscar 40) Clarrisa 41) Cynophontis 42) Dame Martha 43) Dance of Death 44) Dead World Curses 45) Death Fog 46) Destin the Sighted 47) Double Bladed Sword 48) Drums of Panic 49) Eyestalk of Will 50) Face of Mirrors 51) Fireworks 52) Flame Steed 53) Gallows Fiend 54) Geltran 55) Giant Strength Potion 56) Glass Dagger 57) Gloves of Mercy 58) Green Kratchling 59) Hawk Hatchet 60) Healer 61) Helm of Undying 62) Hendric the Mirage 63) Honor 64) Hurgg 65) I Call on Your Power 66) Iceslayne 67) Illusionary Defense 68) Illusionary Script 69) Infernal Designs 70) Invulnerability Potion 71) Jodin Drac 72) Kaballite Tower 73) Kasugoan 74) Kerro 75) Koratcghuk 76) Kun's Merciful Touch 77) Leun Moonstone 78) Limestone Gargoyle 79) Litany of the Dead 80) Llyr Irregulars 81) Lord Miracus 82) Madrigal's Blindstrike 83) Maelifcorum 84) Magic Shield 85) Mammoth 86) Marius Dela 87) Martyr 88) Merciless Ride 89) Mindfire Medallion 90) Misearean Slaver 91) Mithglyn's Caprice 92) Moropha 93) Na'Chuk 94) Nactaar 95) Narasis 96) Nelchat the Horror 97) Nightslasher 98) Ogre 99) Opposition Talisman 100) Parsis Yscar 101) Pit Fight 102) Potion of Blurring 103) Pull the Strings 104) Punch Drunk 105) Queen of Lightning 106) Qultan the Student 107) Rafkin 108) Rally 109) Raylor Magicbane 110) Reaper's Shadowbox 111) Revsheth 112) Ring of Fire Resistance 113) Ring of Spell Storing 114) Ring of Spell Turning 115) Ring of the Skylords 116) Sakarian Bloodknight 117) Sakarian Manticore 118) Scarab 119) Selah Cohler 120) Shadowfiend 121) Shame 122) Shattering Blow 123) Skeleton 124) Skeltis 125) Song of Triumph 126) Soul Gem Kashira 127) Soul Gem Medera 128) Soul Gem Tenira 129) Soul Gem Yelera 130) Stone of Fortune 131) Sudden Gale 132) Tenacious 133) Terratorn 134) Terror of Blackthorne 135) The Horror of Merrick 136) The Plane of Secrets 137) The Shattered Lands 138) The Temple of Lore 139) Throwing Daggers 140) Tobrinsk 141) Tough it Out 142) Treewalk 143) Unakhan 144) Urukhu 145) Veleshan 146) Viper 147) Viper's Strike 148) Votaurr Charm 149) Wand of Negation 150) War 151) Wheel of Death 152) Whip of Despair 153) White Sash 154) Wild Shape Bear 155) Wizard's Guard 156) Words of Woe 157) Your Strength is Mine 158) Zombie.